THE STORY
"Weeping Birds" tells the story of an elderly couple who take old age and death as a joke.
An elderly man and his dying wife try to relive their past (youth), but they realise that the past can never be recovered, so they decide to do the only thing they can for each other, prepare for their future (death).
It is a personal story based on the director's late grandmother and parents' life experiences.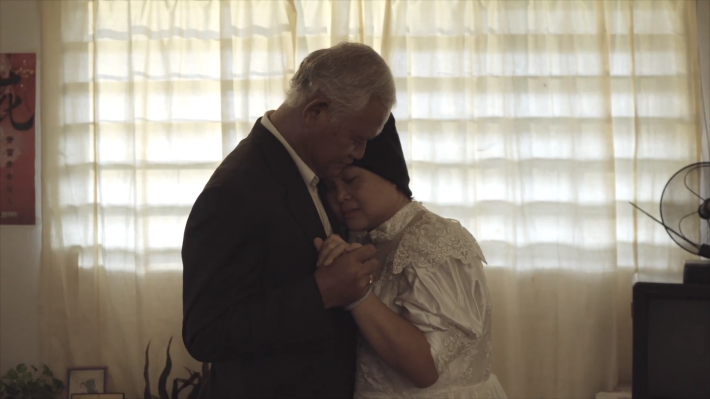 Imagine yourself being 50-something, you are growing old and your partner does not look like how he or she used to look anymore. You realise that time is running out, for you and your partner. You reminisce about the past, how the two of you used to be, how in love you were with each other, how beautiful the two of you were together. Can you bring back these memories? Are these memories important to you?
Then, you wonder, will your partner be by your side when death is nigh? Will you go first, or will your partner go first? Which is more painful? You look him or her in the eye, and you ask, "will I see you again in the afterlife?" Is death the end of the both of you?
You realise that you and your partner still have a future. Time is ticking, but it is not the end. You and your partner go on a journey to find the best way to 'send each other off'. The last thing you can do for each other is to make this 'separation' a memorable and beautiful one.
This film tells the story of my late grandmother, who passed away 10 years ago, and my mother, whose love for life is above everything else. It is a story of love, life and celebration of death.
My mother, who developed cancer cells in her stomach 2 years ago, told me, "life has been treating me well, to be able to watch my children grow up, while I grow old and be an old woman, is a luxury. Not many people get the chance to be old, you know, with all the crazy stuff going on in this world right now. Wars, ISIS, natural disasters, famine. Everyday somebody dies. Life is precious, but death always has its eyes on us." She is only 56 years old and already thinks she is old. As a child of a parent who has that thought, I am scared. Death is imminent, but I will never be prepared to witness my parents' deaths. This film is dedicated to my parents and everyone else's parents. In a way, I hope that this film will 'immortalise' their existence. At least, when my parents are gone, I still have a piece of them to remind myself that they existed.
The story also deals with the issue of time and how youth is spent. As a teenager and young adult, I figured that I wasted too much time worrying about things that I cannot change. Time is always running, and we do not stay young forever. The transition from a teenager to a young adult and an adult has been hard on me. The responsibilities, the pressure I put on myself to prove myself, I have forgotten how being a child was like. Technically, I am still young, and I should cherish every moment of my youth, not be afraid of it. I want my younger audience to realise that youth is not forever and time does not wait. Do the things you want now, make mistakes, and be stupid, before your energy is diminished by adulthood.
"Weeping Birds" is our most ambitious project yet and we have high hopes to make this film a success.
This film is a dedication to all our loved ones. We want to tell them that 'all conditioned things are impermanent', that time will wipe us all out one day, and none of us will survive. Therefore, we have to appreciate everything around us before it changes with time.
MEET THE TEAM
The Producer
Lindsay Tan is a Final Year student in the Faculty of Cinematic Arts at Multimedia University Iskandar Puteri Campus, Malaysia. She is an ambitious and personable individual with experience not only in production, but also pre-production and post-production. She aims to become a flexible and quick decision maker with different job roles in the future. She is an assertive person who communicates with respect and is very understanding towards others. Previously, she interned at IMAGICA South East Asia Sdn Bhd (ISEA) and since then, Lindsay has been involved in several local and international feature-length films. Her most notable producing jobs are "Vani: A Flower in the Void" (2016) and "The Seeker and the Miner's Oil Lamp" (2017).
The Director and the Writer
Chan Teik Quan is a Final Year student in the Faculty of Cinematic Arts at Multimedia University Iskandar Puteri Campus, Malaysia. He is an aspiring filmmaker, artist and photographer who finds inspiration in human feelings and human relationships. He believes that film is a medium that combines every art form and through filmmaking, he wants to help people see things that they don't usually pay attention to. Previously, he interned at Next New Wave and experienced the process of organising a film festival. He also got to meet many great South East Asian filmmakers and film curators. His works have been screened in various international film festivals. His earliest short film, "Spotlight" (2015) won Best International Film at Take 21 Film Festival 2016 in Toronto, Canada, and was screened at film festivals in Thailand, Malaysia and Indonesia. A poetic film of his, "Anitya (Impermanence)" (2016) was screened at film festivals in Malaysia and Bulgaria. His latest short film, "Suri" (2017), won Best Sound Design and Best New Modes at MMU FCA AWARDS 2017 and was shortlisted at the 3rd Minikino Film Week in Bali, Indonesia.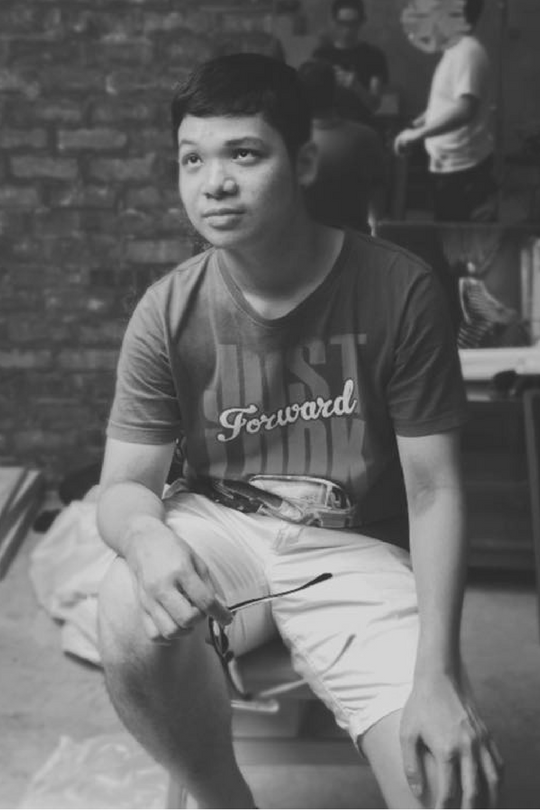 The Co-Writer
An aspiring filmmaker and art lover, Nicklaus Chua Qi Ren is a Final Year student in the Faculty of Cinematic Arts at Multimedia University Iskandar Puteri Campus, Malaysia. A firm believer in film's ability to unite the art forms and bring people together, this passionate storyteller draws inspiration from relationships he has with the people around him and strives to make it shine on the silver screen. Previously, he interned at Biscuit Films as Production Assistant for director Jon M. Chu's upcoming feature, "Crazy Rich Asians".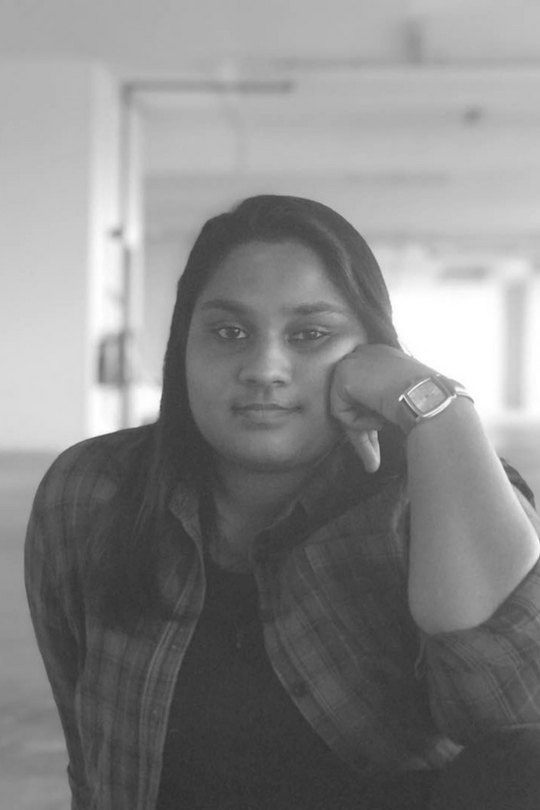 The Cinematographer and the Editor
Eunice Alexander is a Final Year student in the Faculty of Cinematic Arts at Multimedia University Iskandar Puteri Campus, Malaysia. She is an aspirant who believes that everyone has a story to tell, however big or small and essentially, her interests lie on how these personal real-life stories can be uncovered through films. She ventured into cinematography in 2010 and has worked on various short films, music videos, and documentaries since then. Her mini documentary project, "Anak Laut" (Son of the Sea) (2016) was an Official Selection of AM Egypt Film Festival and Voices from the Waters International Travelling Film Festival. Her documentary, "Vani: A Flower in the Void" (2016), won Best Documentary at Real to Reel Global Youth Film Festival in Los Angeles, California.
The Production Designer
Ashley Tong is a Final Year student in the Faculty of Cinematic Arts at Multimedia University Iskandar Puteri Campus, Malaysia. She easily adapts to new surroundings and people. As someone who loves to socialize and communicate with people, she has expanded her network of people in the industry over the years. An aspiring producer, some of the notable short films that she has produced are, "Philea" (2017) and "S O R O K" (2017). Previously, she directed "Sculpture", a music video by South and the Lowlands, which won Best Music Video at MMU FCA AWARDS 2016 and was selected to be screened at JB Art Festival 2016. Her mini documentary project, "0000" (2016), about a night food seller, was also selected to be screened at JB Art Festival 2016.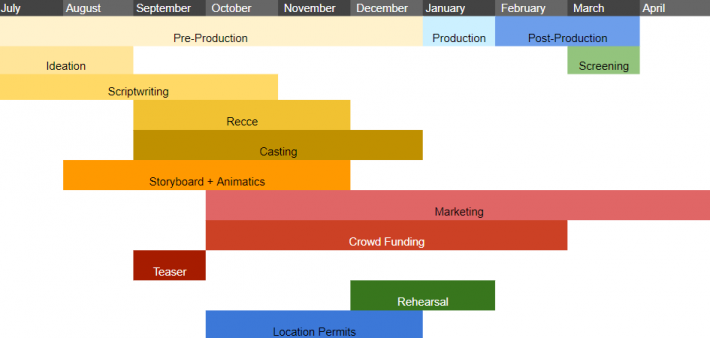 Pre-production started back in July after the story was selected by our lecturers. The writers started writing the script as we planned for the production of the teaser which was shot in September. Pre-production will continue until December as we started our crowdfunding campaign in October. During this period of time, we are searching for the right cast for "Weeping Birds" while the director ponders on casting his own parents or casting professional actors. Recce will go on until November.
Production will start in the middle of January in 2018 and we will proceed to post-production which will go on until March. The completed film will be premiered in Multimedia University Iskandar Puteri Campus in March and, once it has been screened, the producer will start submitting it to film festivals around the world.
PROJECT BUDGET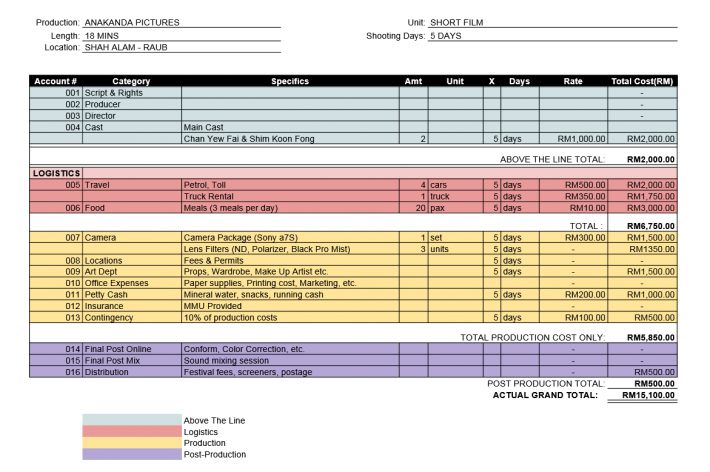 The production of "Weeping Birds" will commence in the middle of January in 2018 and it will take approximately 5 days to complete. Our highest expenditure will be on logistics. As production will take place in Shah Alam, Selangor, most of our spendings will go on our travelling (back and forth from Johor Bahru to Selangor). Our team will be assisted by 20 other crew members, therefore we are also in need of financial assistance to care for their accommodation and meals throughout their 5-day stay in Selangor.
It is also our desire to submit this film to film festivals all around the world once the film is completed. What makes "Weeping Birds" really special is that it embraces the local culture, specifically the Malaysian Chinese culture, and we want to show the people out there what are the things that define the Malaysian Chinese people. The way they talk, their lifestyle, and the culture. In a way, it is also an attempt to bring Malaysian Cinema to the world.
Some of the film festivals that we will be submitting our film to are as listed below:
1) Madrid Asia International Film Festival 2) Malaysia International Film Festival
3) Minikino Film Week 4) Singapore International Film Festival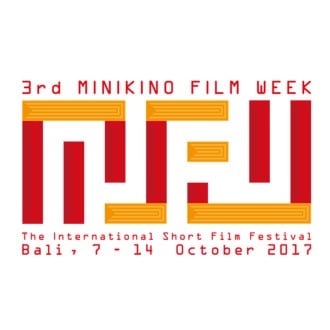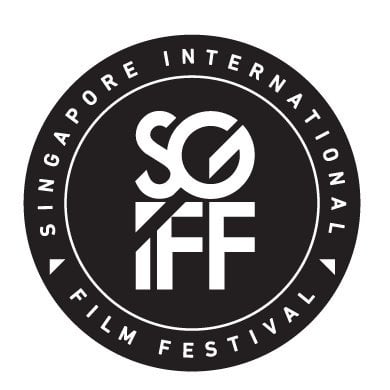 5) Verona International Film Festival