我们为餐饮食品业者所提供的一站式服务平台,希望能够使相关资讯更普及,提高方便性。
(1)食品卫生课程:卫生部规定课程,若无此证书将会被罚款。
(2)餐饮人员伤寒预防针:卫生部规定疫苗,若无此证书将会被罚款。
(3)害虫防治: Pest Control,防止营业场所被害虫入侵,形成污染源
(4)个人卫生配备:餐饮业者所需的帽子,围裙,手套,鞋子等。
(5)食品品质安全认证培训与顾问服务:BeSS,MesTI,GMP,HACCP,ISO9001, ISO22000, FSSC22000, HALAL等
(6)厨房整修:将提供专业建议与厨房工厂装修服务
我们的团队已经得到马来西亚卫生部(Ministry Of Health) 及人力资源部(Ministry of Human Resources)的认证,所有课程皆可以 Claim HRDF(Human Resources Development Fund)。
近期已经开始与各政府部门合作(马来西亚伊斯兰教发展局(JAKIM), Halal Hub及马来西亚卫生部(Ministry Of Health))并提供相关课程。包括Halal Awareness Training, GMP Awareness Training, Food Handler Training 等。
当然,我们的服务项目也陆续增加及统整。
目前可以提供的服务主要有三大部分。
1.食品餐饮业必修课
| | |
| --- | --- |
| | 卫生部食品卫生课程(Food Handler Training,Kursus Latihan Pengendali Makanan)是马来西亚卫生部规定必修课程,卫生部官员将会确定所有餐饮业者皆拥有此课程证书,而我们团队提供上门培训服务。 |
2.食品餐饮业培训与顾问服务
大众对食品卫生与食品安全的要求越来越高,所以我们团队可以协助食品餐饮业得到相关认证,包括HALAL, BeSS, MeSTI, GMP, HACCP, ISO9001, ISO22000, FSSC22000, BRC等
3.非食品餐饮业培训与顾问服务
团队经营一段时间过后,吸引到一群志同道合的培训师(Trainer)一起合作。目前已经有工厂废水处理专业,网站设计专业,前台人员形象顾问,软技能(soft skill)培训专业及team building等
经过一连串的经验累积,我们发现客户群更要求方便性,及时性以及如何让不同阶层的员工了解所谓的专业术语&规范。
所以我们接下来的计划是打破"时间","区域"与"语言"的限制。
时间弹性

:早上

6

点,晚上

10

点,甚至公共假期都可以安排课程。我们团队可以配合客户时间,快速安排课程。

服务覆盖全国

:吸引各地区专业培训师,在北中南区设立办公室。随时能支援客户遍布全国的连锁事业。

多元化语言

:目前团队已经有华巫印三大种族的专业培训师,为了配合各阶层员工,课程更是活泼生动简单明了。由于各行业聘请外劳日渐趋多,所以课程会进行翻译。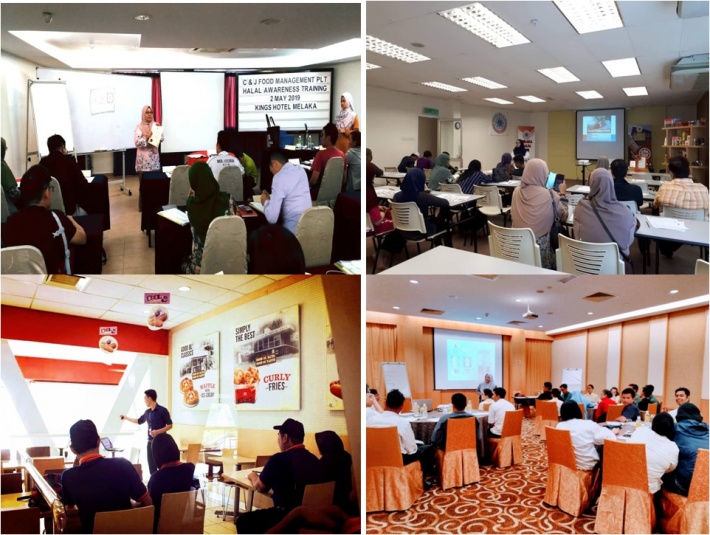 参加圆梦工厂创业大赛,希望与其他创业者互相学习与勉励

希望通过一连串的导师课程,让他们丰富的经验来协助我们团队更快速规划出下一个计划

让潜在客户进一步了解我们团队的服务
Our team hopes that through our professional training, we can improve the professionalism of your employees, gain the trust of your customers, and pass the ISO International Organization System certification.
Our team has been certified by the Ministry of Health and the Ministry of Human Resources in Malaysia. All courses are available for HRDF Claims (Human Resources Development Fund).
Recently, cooperation with various government departments (Department of Islamic Development Malaysia (JAKIM), Halal Hub and Ministry of Health) and related courses have been offered. Including Halal Awareness Training, GMP Awareness Training, Food Handler Training, etc.
There are three main parts of the services
1.Compulsory Training For Food & Beverage Industry
The Food Handler Training (Kursus Latihan Pengendali Makanan) is a compulsory course under Malaysian Ministry of Health. The officer of Ministry of Health will confirm that all food handler have this training certificate,

Our team provides on-site training services also
2.Training and Consultancy for Food & Beverage Industry
Our team can assist the Food and Beverage Industry to obtain relevant certification, including HALAL, BeSS, MeSTI, GMP, HACCP, ISO9001, ISO22000, FSSC22000, BRC, etc.
3.Training and Consultancy for Other Industry
Besides F&B Industry, a group of like-minded trainers also join our team. For example, there are waste water treatment professional, website design professional, front desk personnel image consultant, soft skill training professional and team building trainer, etc.
To break the limits of "time", "region" and "language".
Time flexibility: 6 am, 10 pm, and even public holidays can be arranged. Our team can coordinate the time of the customer with the customer's time.

Service coverage nationwide: attract professional trainers from all regions and set up offices in the North Central South District. We are able to support our customer's outlets all over the country at any time.

Diversified Languages: At present, the team has professional trainers of three major ethnic groups in Malyasia. In order to cooperate with employees of all levels, the course is lively, vivid and simple. The course content will be translated to other language as the number of foreign workers hired in various industries is increasing.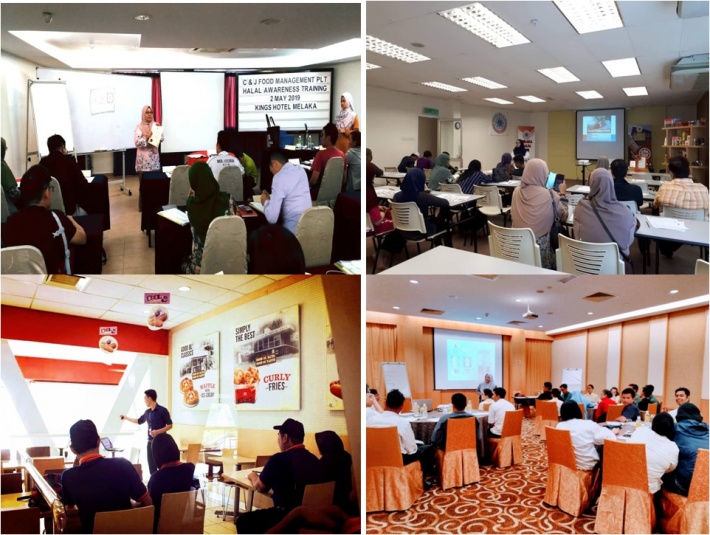 To learn and encourage each other with other entepreneurs

Through a series of instructor courses, they will be able to help our team go to the next step more quickly

Let potential customers know more about our team's services